If you've landed here, you're probably starting a major bathroom renovation project. Renovating a bathroom from top to bottom is a multi-step project that can easily take several weeks.
For a seamless and cost-effective bathroom remodel, we've curated a comprehensive guide to serve as your project's ultimate checklist. This detailed resource will help you stay on track, minimizing unexpected delays and expenses along the way.
Whether you're crafting your bathroom remodel checklist independently or seeking insights into the contractor-led process, this guide is here to assist you. Gain a comprehensive understanding of the various steps involved, ensuring a seamless and successful bathroom renovation journey.
Table of Contents
Keywords for bathroom renovation Checklist
Functional
The layout of your bathroom should be geared towards your daily use of it. While you embark on the exciting journey of furnishing a new space, seize the opportunity to optimize every aspect of the room.
Pleasant
Prioritizing functionality over aesthetics, we propose focusing on a practical layout for this central room in your house – the bathroom. While aesthetics are crucial for creating a welcoming ambiance, ensuring a practical design takes precedence to enhance everyday convenience. A well-thought-out layout will not only maximize space but also create an enjoyable and functional bathroom where you can feel at ease.
Resistant
Why settle for constantly replacing materials or furniture when you can invest in long-lasting quality? Consider prioritizing high-quality materials within your budget or finding options that offer the best value for your money, ensuring a durable and worthwhile investment.
How to Determine Your Needs?
Unattractive and impractical bathrooms are far from desirable! This space, synonymous with comfort and daily routines, deserves careful attention to its layout and decor to create an inviting ambiance. While you may be inspired by various bathroom Pinterest boards, it's essential to ensure that the amenities meet your specific needs. Create a list of your criteria, focusing on factors like
Ease of cleaning;
material quality;
bathroom ergonomics;
The amount of storage available.
Additionally, keep in mind that remodeling your bathroom can impact the resale value of your home, so striking a balance between personal preferences and potential buyers' preferences is crucial. Ultimately, prioritize your comfort and satisfaction as the primary user of the space while still considering future prospects.
Questions to Ask When Planning Your Bathroom Remodel Checklist
Embarking on a bathroom remodel can be an exciting yet daunting task. Whether updating a small portion of your bathroom or completely transforming your master bathroom, careful planning is essential to ensure a successful and satisfying outcome. To guide you through the planning process and create a comprehensive bathroom remodel checklist, consider asking yourself these crucial questions:
What is My Budget, and How Will I Allocate Funds?
Start by determining your budget for the bathroom remodel. Consider the overall budget and how you'll allocate funds for different aspects of the project, such as fixtures, tiles, lighting, and labor. Being clear about your financial limits will help you make informed decisions.
What Specific Features and Design Elements Do I Want?
Envision your dream bathroom and list your desired features and design elements. Do you want a luxurious spa-like atmosphere, a sleek modern design, or a cozy and rustic feel? Think about the type of bathtub, shower, sink, vanity, and storage options you prefer, as well as the color scheme and overall aesthetic.
Are There Any Plumbing and Electrical Updates Needed?
Evaluate the condition of your bathroom's plumbing and electrical systems. Determine if any updates or repairs are necessary to accommodate the changes you plan to make. Working with a professional plumber and electrician can help ensure safety and compliance with building codes.
Should I Hire a Professional Contractor or DIY?
Decide whether you'll tackle the bathroom remodel as a DIY project or hire a professional contractor. While DIY can save money, complex tasks are best left to experienced professionals to avoid costly mistakes and ensure a high-quality result.
How Can I Optimize the Bathroom Layout and Functionality?
Examine your current bathroom layout and consider how you can optimize the space for improved functionality. Evaluate whether rearranging fixtures or expanding the bathroom's footprint is feasible and beneficial.
What Are My Storage Needs?
Assess your storage needs in the bathroom. Determine the storage space required for towels, toiletries, and other essentials. Explore creative storage solutions like built-in shelves, cabinets, or space-saving organizers.
How Will the Remodeled Bathroom Impact the Resale Value of My Home?
Consider the potential impact of your bathroom remodels on the resale value of your home. While personal preferences are essential, striking a balance with timeless and universally appealing design choices can enhance your home's marketability.
What Safety Features Should I Incorporate?
Consider safety features, especially if you have children or elderly family members. Installing slip-resistant flooring, grab bars, and accessible fixtures can provide safety and peace of mind.
Your Bathroom Remodel Checklist
Step 1: Assessing Your Plans
Begin your bathroom remodel process by generating creative ideas for the desired appearance of your bathroom. Consider whether you prefer a traditional style or a contemporary or farmhouse chic aesthetic. Additionally, contemplate if you have any specific color preferences in mind.
To start your bathroom remodel process, follow this checklist:
Gather inspiration by creating a Pinterest board and collecting bathroom styles you like.
Hire a reliable remodeler to create design options before starting the demolition.
Evaluate your existing bathroom and identify what aspects work well and what needs improvement.
Consider what additions or changes would enhance functionality, such as convenient outlets, recessed spice racks, or additional storage.
Prioritize your needs by distinguishing between essential elements (e.g., a large cooking stove and range hood) and desirable features (e.g., a spacious island).
Establish a budget that allows for unexpected expenses by allocating some flexibility.
Step 2: Plan a Realistic Budget for Your Bathroom Remodel
Creating a checklist for a full bathroom remodel, involves careful budgeting to ensure a successful project without breaking the bank. Here are some steps to help you determine a realistic budget:
Assess Your Finances
Evaluate your current financial situation, considering your income, savings, and available financing options.
Be realistic about your budget limitations and avoid overextending yourself.
Research Cost Estimates
Gather cost estimates from contractors, suppliers, and professionals for different remodel aspects.
Consider materials, labor, permits, and potential additional expenses.
Allocate Budget
Prioritize budget allocation based on essential elements like cabinetry, appliances, and flooring.
Allocate a smaller portion for optional or decorative features.
Set aside a contingency fund for unexpected expenses.
By following these steps, you can create your bathroom remodel checklist, knowing you have a realistic budget to guide your decisions and ensure a successful outcome.
Step 3: Hiring Professionals
Once you have added your plans and determined a realistic budget in your checklist for bathroom remodel, the next crucial step in your bathroom remodeling checklist is to hire a bathroom remodel professional who can transform your ideas into reality.
Tips for Finding Reliable and Experienced Professionals:
Research and Referrals
Conduct thorough online research and explore websites, portfolios, and customer reviews. Seek recommendations from trusted sources who have had positive experiences with professionals in the field.
Credentials and Licensing
Verify that the professionals you consider are properly licensed, insured, and bonded. Look for certifications or memberships in reputable industry organizations which indicate a commitment to professionalism and continuing education.
Face-to-Face Meetings
Schedule consultations with multiple professionals to discuss your project in detail. Use this opportunity to assess their expertise, communication style, and compatibility with your vision. Ask about their previous projects, timelines, and how they handle potential challenges.
Request Detailed Proposals
Obtain written proposals from the professionals outlining the scope of work, materials to be used, project timelines, and estimated costs. Compare the proposals to ensure they align with your goals and budget.
Check References
Request references from the professionals and reach out to their previous clients. Inquire about their overall experience, the quality of work, adherence to timelines, and communication throughout the project.
Remember, involving professionals early in the process helps you make informed decisions, avoid costly mistakes, and streamline the remodel. With their guidance and collaboration, your bathroom will progress smoothly, aligning your vision with a realistic budget and bringing your dream bathroom to life.
Step 4: Counter, Floor and Wall Selection
After enlisting the services of a professional for your bathroom remodel, the next step in your bathroom renovation checklist is to delve into the finer details of your project. This includes making specific selections for the counter, floor, wall, tub, lighting, etc.
Consider the following when choosing these features:
The Counter
While the bathroom counter may not be as spacious as a kitchen counter, its role in keeping the room tidy and organized is significant. As it often accommodates the sink(s), the counter must be waterproof and easy to clean. Here's a brief overview of material options to consider:
Marble: A premium, durable, and waterproof choice, albeit more expensive.
Wood: A noble material with varying price points depending on quality grades.
Slate: A heavy material with a striking aesthetic, requiring a sturdy structure.
Corian: Offers a malleable surface, perfect for creating unique shapes.
Granite: Provides a resilient surface with a range of colors and patterns.
Quartz: Ultra-resistant and luxurious in appearance.
Concrete: Allows for creative textures and hues, though maintenance can be challenging.
Ceramics: A timeless classic with options for all tastes and budgets.
Laminate: Often convincingly imitates the look of more expensive materials.
By selecting the suitable material for your bathroom counter, you can achieve functionality and aesthetic appeal in this essential space.
The Floor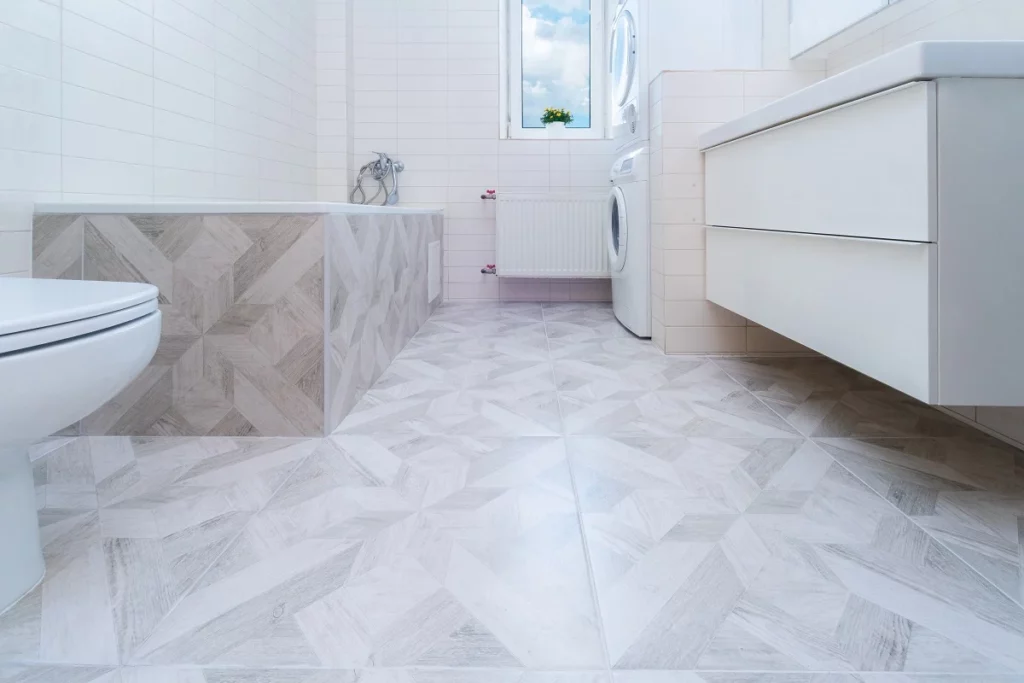 Bathroom flooring requires durability and waterproof qualities due to frequent exposure to water, humidity, and heat. When selecting a material, prioritize aesthetic appeal and easy maintenance for a long-lasting solution. Standard bathroom flooring options include:
Ceramic: Opt for medium or large format tiles with a smooth surface to simplify maintenance and ensure a water-resistant floor, similar to ceramic countertops.
Stone: Although higher in cost, stone coverings offer excellent value with their resistant surface and timeless style.
Wood: Choose hardwood over softwood for a bathroom wood floor, ensuring proper protection against water damage like warping.
Vinyl: An affordable and flexible option, vinyl provides an economical alternative to wood and ceramic, with numerous designs that mimic more expensive materials.
Linoleum: Regaining popularity due to improved durability and eco-friendly manufacturing, linoleum presents a stylish and sustainable choice for bathroom flooring.
Wall Coverings
Vibrant Paint Colors
You can refresh your bathroom by selecting new paint colors to change the atmosphere. Opt for brighter shades to add light, or go bold with vibrant hues like fuchsia, apple green, or canary yellow.
Trendy Wallpaper
Wallpapers with modern, easy-to-install designs adorned with attractive patterns, are an easy option to decorate your bathroom's wall. Choose moisture-proof and easy-to-clean options suitable for bathrooms.
Textured Decorative Panels
With the help of textured options like moldings or 3D panels, adding depth and visual interest you can elevate your bathroom's wall. Explore a variety of materials, such as wood, plastic, faux brick, faux stone, and MDF, to find your ideal match.
Timeless Brick Accents
Incorporate the classic charm of brick into your bathroom decor. Consider real brick walls for a traditional touch or affordable and lightweight decorative brick panels.
Elegant Stone Finishes
Add a touch of sophistication with real stone walls, creating an opulent ambiance. Alternatively, choose decorative panels that convincingly recreate the look of stone surfaces.
Industrial Concrete Elements
You can use an industrial aesthetic with thin concrete layers on walls, or opt for concrete-look tiles for a contemporary vibe. Explore faux finish options with specialized paint or hardware store products. Customize your bathroom walls with these creative choices and infuse your space with a unique and personalized touch.
Step 5: Bath, Shower, Toilet, and Washbasin Selection
We have discussed the different coatings that cover the surfaces of a bathroom, either the floor, the walls or the counters, but we have not mentioned everything related to the main objective of this room: hygiene. Indeed, there would be no bathroom without a bath and/or a shower, a sink and a toilet! During a bathroom renovation project, it's a good time to think about changing the model of the bath or toilet, in order to make the room even more pleasant.
Bathtub
When choosing the perfect bathtub model, the market offers many options to suit your needs, tastes, and bathroom space. Among the various models available, each comes with its unique characteristics:
1. Alcove Bathtub: This popular choice is economical and space-saving, as it fits snugly between three walls. Typically oval-shaped and available in a variety of colors, the alcove bathtub offers a simple and practical design.
2. Podium Bathtub: Designed to be placed within a box anchored to the ground, the podium bathtub comes in varying shapes, from oval to rectangular. The box is customizable, offering options like ceramic, stone, or wood, while the bathtub is available in multiple colors.
3. Freestanding Bathtub: With a contemporary appearance, the freestanding bathtub exudes elegance and style. Placed directly on the floor, this bathtub requires ample space and a more complex connection of pipes. However, its availability in various shapes and colors makes it a versatile choice.
4. Clawfoot Tub: Adding a touch of vintage charm, the clawfoot tub sits on legs, providing depth and durability. Although it offers a classic appeal, its piping is visible and tends to come with a higher price tag.
5. Soaking Tub: Partially or completely recessed into the floor, the soaking tub offers a spacious and luxurious bathing experience. Due to its substantial water capacity, a sturdy structure is necessary to support the weight.
6. Adapted Bathtub: Specifically designed for older people or individuals with reduced mobility, the adapted bathtub features a watertight door, a bench, and safety bars. Its installation may be more complex, but it ensures ease of use and accessibility.
7. Tub-Shower Combo: Combining the convenience of a bathtub with a shower box, the tub-shower can be easily installed between two or three walls, in a corner, or even in an alcove, making it a versatile choice for various bathroom layouts.
Choose your accessories: When choosing the perfect accessories for your bath, the faucet is one of the most crucial elements to consider. Available in various models, including motion detectors and one or two handles, and constructed from different materials like chrome, brass, or stainless steel, selecting the right faucet is essential to complement your chosen bathtub model.
Consult with the tub supplier to ensure a seamless match between the bathtub and faucet design. You may also opt for more indulgent accessories, such as a back cushion or a non-slip mat, to enhance your bathing experience further.
Shower
Five shower models are currently available on the market. Each has several subcategories according to shape, color, dimensions, etc. All models can have a roof and doors.
The monocoque shower consists of a single piece. Perfectly waterproof, it is easy to install. However, as it is massive, it is often difficult to transport and incorporate into an existing bathroom.
The modular shower consists of at least two pieces. Easily transportable, it adapts to all bathrooms. However, its joints make it less watertight and more challenging to maintain.
The traditional cabin is in one piece. Not bulky, it is less elegant than other models, but it often costs much less.
The ceramic shower requires the laying of ceramic on the floor and the walls. Although watertightness depends on the quality of the installation, it is a naturally resistant and easy-care shower.
The adapted shower is designed for people with reduced mobility. Spacious, it often includes safety rails and a bench. Compared to its counterparts, it is more complex to install.
Choose your accessories: Shower accessories like taps and shower heads are vital in enhancing your bathing experience. Choose from various models and materials to find the perfect fit for your bathtub. Shower heads offer a range of features, from multijet to rain effects, while secondary accessories like footrests or limestone filters add extra comfort and functionality to your shower. Create a personalized and indulgent oasis with the right shower accessories.
Toilet
Considering a toilet upgrade? This decision shouldn't be taken lightly, as it's a significant investment. However, we've got you covered with various toilet options to ensure a choice you'll be delighted with for years to come!
Wall-mounted toilet: Space-saving and contemporary, wall-mounted toilets create a clean and open look in the bathroom.
Wall-mounted, round toilet: Combining space efficiency with a classic round design, this toilet offers comfort and style.
A modern, conventional toilet: Featuring sleek lines and efficient flushing, this modern toilet blends seamlessly into any bathroom design.
A classic model: Timeless and elegant, a classic toilet design adds a touch of sophistication to traditional bathrooms.
Composting toilet: Environmentally friendly and self-contained, composting toilets are a sustainable option for eco-conscious households.
A refined design for a sleek-looking bathroom: Elevate your bathroom's aesthetics with an elegant toilet design, perfect for creating a sleek and contemporary ambiance.
One-piece toilet: Streamlined and easy to clean, one-piece toilets offer a seamless and modern appearance while minimizing the risk of leaks.
Choose your accessories: For a complete toilet remodel, consider upgrading the toilet seat to a comfortable and stylish option, adding a bidet attachment for improved hygiene, and incorporating functional elements like a toilet paper holder and a toilet brush with a matching holder.
Enhance the overall ambiance with decorative accents such as wall art or plants, and ensure convenience with a nearby trash can for easy disposal. Complete the transformation by introducing an air freshener or room spray to keep the bathroom smelling pleasant and inviting. These thoughtfully chosen accessories will elevate both the aesthetics and functionality of your newly remodeled toilet area.
Washbasin
The sink is the centerpiece of the bathroom, setting the tone for the layout of the space. You may have yet to give it too much thought but know that the sink you choose for your bathroom should be selected based on your lifestyle.
People with large families won't look at the same models as those who live alone or those looking for a sink for their guest bathroom that won't be used often. There are many things to consider when choosing a sink.
The pedestal sink: A classic and space-saving choice with a freestanding basin supported by a decorative pedestal, adding elegance to any bathroom.
The wall-mounted washbasin: Ideal for small bathrooms, this sink is mounted directly to the wall, creating a clean and minimalist look while saving floor space.
The integrated sink: Seamlessly blending into the countertop, the integrated sink offers a sleek and modern appearance with easy maintenance.
The built-in sink: Customizable and versatile, the built-in sink is designed to be installed directly into a vanity or countertop, providing a cohesive and stylish design.
The flush mount washbasin: Perfect for contemporary bathrooms, the flush mount washbasin sits flush with the countertop, offering a seamless and sophisticated look.
Choose your accessories: For a stylish wash basin remodel, enhance the area with a faucet upgrade that complements the basin's design. Add a well-sized mirror with flattering vanity lighting for both functionality and elegance. Keep the hand washing area organized with a soap dispenser and dish, and install a towel rack or ring nearby for convenient access to hand towels.
Maximize storage space with shelves or cabinets beneath the washbasin for toiletries and essentials. Complete the transformation with decorative accents like a small vase, scented candles, or art pieces to create a welcoming and visually appealing atmosphere in your washbasin area.
Step 6: Lighting Selections
Direct Lighting
A well-thought-out lighting plan is crucial for any room, and the bathroom is no exception. Task lighting is essential in this space, providing direct light for various small tasks. Consider placing lamps around the mirror for shaving and makeup application and near the shower and tub for safety.
When it comes to vanity lighting, avoid placing fixtures directly above the mirror, as this creates unflattering shadows. Instead, opt for vertical fixtures or sconces on either side of the mirror to achieve even flattering lighting for the face and upper body.
Alternatively, a broad light fixture on the mirror can provide uniform illumination for all bathroom users. Prioritizing proper lighting will ensure a functional and aesthetically pleasing bathroom space.
For other areas of the bathroom, place task lighting around or near the shower or tub. For example, you could opt for recessed lighting, as bathrooms are generally small and therefore space is limited.
Ambient Lighting
Indirect or ambient lighting is the type of lighting that will make your bathroom feel soft and warm, contributing to the tranquility you may be trying to cultivate. This is especially true if you're looking for the soft glow you might find in a spa or yoga studio. In this kind of environment, we speak of ambient lighting. Wall lights or recessed LEDs under the vanity or bathtub can provide a great alternative to natural light.
When it comes to ambient lighting, be creative! Since this style of lighting is usually recessed or completely hidden, the fixture itself or the bulb style could easily be out of the ordinary. Precisely, "cove" lighting is an excellent option for the bathroom. These are strings of lights hidden behind a molding of several centimeters hung on your ceiling. Cove lighting adds warmth and depth to the room. If this is what you are looking for, we suggest you consider this option for your bathroom.
Skylights and Natural Light
To be honest, nothing compares to natural lighting. Therefore, it is always good to consider ways to structure your bathroom to ensure ideal natural lighting conditions. If you're completely remodeling your bathroom and you have the capacity, we suggest installing a large window to add plenty of natural light. If you're concerned about your privacy, consider using frosted glass so light can stream into the room without your neighbors getting a sight you didn't expect.
If you are unable to add a new window to your home, have you considered a skylight ? This skylight will not only allow light to enter the room, but it will also be an eco-friendly option for those who care about the environment.
Bulbs and Dimmers
You may not realize it, but light bulbs have a huge impact on the mood and decor of your bathroom. This is especially true when it comes to the color of the bulb itself. For example, a white bulb will render skin tones accurately, while halogen bulbs will have more of a golden tone.
Dimmers are another great option for a bathroom, especially because they provide complete control over the lighting in the room. Being able to adjust each luminaire makes it possible to create ambient lighting or direct lighting, according to our needs. Plus, dimmers are a great way to save energy, time, and money.
Embark on a Bathroom Transformation in Orange County: Are You Ready for a Remodel?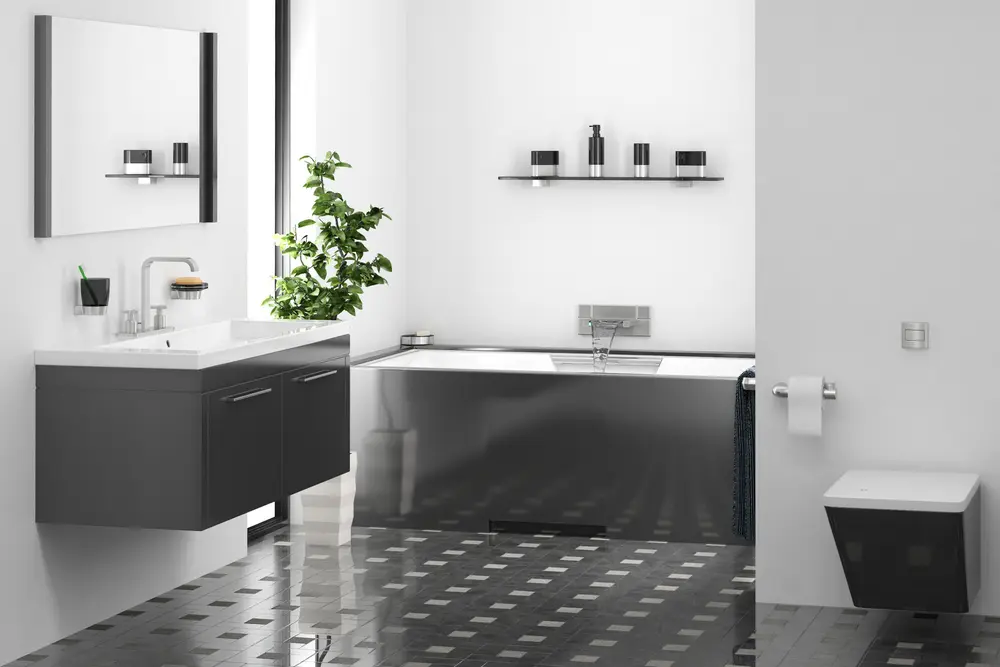 Are you ready to embark on a bathroom transformation in Orange County? Contact Grizzly Strong Construction today to schedule a consultation. Let us guide you through the process, understand your unique needs, and create a customized plan for your budget and timeline.
We'll create a bathroom combining functionality, style, and taste. Trust Grizzly Strong Construction for exceptional results that exceed your expectations.